Every week I will select a few new releases to discuss in this spot. This week we have a beloved song writer venturing out on his own, two young punk(ish) bands fronted by badass women, and a multiverse version of a classic group. So without further ado, here we go.
Here is the playlist
Recommended Listening: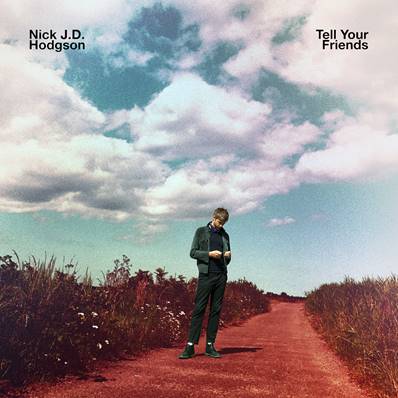 Nick J.D. Hodgson - Tell All Your Friends
The ex-KaiserChiefs' drummer Nick J.D. Hodgson has spent a lot of time in studios producing and songwriting in his years since departing the band and every second of his studio sabbatical shows on this album. I am in love with it. I've been waiting for an album like this for a while now, it sounds incredible and it's just good music. Not to nerd out unnecessarily but there's a 15 secondish recording of bird songs that sounds better than most things I've heard, it's awesome. The songs are really personal and heartfelt. There is a rare diversity in instruments and arrangements, mostly played by him, all while keeping a dreamy indie tone. It's the perfect type of album for hanging out or doing work to. Nick has definitely achieved his stated goal of making feel good music on Tell All Your Friends. I definitely recommend giving it a listen and suggest you follow the title's instructions to, they'll thank you.
Django Django - Marble Skies
Imagine an alternate reality where early on the Beach Boys found a box from the future with drum machines and synths, that is Django Django. I don't throw that comparison around lightly. Of course they are not as talented in this alternate universe but their style of indie tunes and high harmonies with the aforementioned electronic equipment is damn fun. On Marble Skies the guys must have finally gotten into their 80s samples because the tones of that era are all over some of these tracks. Never afraid to experiment there are a few songs where the band foregoes the electronics that have mostly defined their sound on this and they're just as good as ever. Just to throw as many lofty expectation as I can on them they remind me of ELO, not in skill, yet, or complexity but in their fearless approach to music. There aren't many bands out there at any given time that don't follow the trends and just do whatever they want, this is one of those bands . The ELO Boys from the Upsidedown Django Django have a pretty good record on their hands that I enjoyed and think you should check it out.
Marmozets - Knowing What You Know Now
To call the Marmozets a punk band wouldn't necessarily be inaccurate but there is a certain stigma about lack of talent that follows punk musicians and I don't think that applies to this group. They are driven by unrelenting drums and distorted rhythm guitars combined with stand out singer Becca MacIntyre's particularly distinct voice and there are few young bands as good as them. This is their second full length album and it picks up where they left off. As with the debut mentioned below, this album kicks in the door from the word go on Play, the album's opening track, and apart from Insomnia and Me & You there is never any let up. We get a little more diversity on this album with songs like the aforementioned and a few others that explore some, for lack of a better term, weirder tones for the band but strangely still suit them really well. I liked this one a lot and anticipate it will be on heavy rotation for a little while.
Dream Wife - Self-Titled
They started out as an art project but were too good to not continue making music together. This is as strong a debut as I have ever heard. Having only released a few singles prior to this I wasn't sure what to expect coming in other than Let's Make Out rocks so it is no surprise it kicked off the album. Not since Tia Carrere in Wayne's World have I been so immediately intrigued by a vocalist in the way I was with Dream Wife's Rakel Mjöll's. The uniqueness of her voice is highlighted by the dynamics with which she sings. This album keeps up the promise of its opening track for the most part from start to finish but be forewarned the last track is pretty explicit if you're sensitive to that sort of thing. These ladies are awesome and their music is some pretty great rock that anyone should be able to enjoy.
Don't Say I Didn't Warn You:
I could warn you against listening to Migos but that would be unfair as I won't listen to it to even give it a chance to defend itself. If you do not like today's popular style of rap in arguably its worst form I would suggest skipping it but, as you can see from the above indie gems, contrary to popular belief they are not the only non-single releases this week.