Every week I will select a few new releases to discuss in this spot. This might be my favorite group of picks out of all the ones I have done, the amount of talent across them is probably the highest since I started this weekly post. This week we have remarkable debuts from a pop supergroup and a young woman from Nashville not even old enough to drink legally, a unique brand of post-punk from a South African born artist and a musical journey through a diverse range of music.
So without further ado, herewego.
Here is the playlist
Recommended Listening:
Superorganism - Self-Titled
If you have been avoiding singles or did not play FIFA '18 you might have missed the first releases from the pop supergroup gifted to us by the internet, known as Superorganism. The group's early beginnings are, singer Orono Noguchi was suggested an Eversons video while on youtube. She would later meet them, bond over memes, keep up with each other over Skype and form this uniquely fantastic group. The group now has members from all over the world; Japan, Australia, New Zealand, South Korea and England. They started by recording stuff on their own and emailing them back and forth. Without technology it's safe to say this group would never exist, isn't living in the future fun? Well, sometimes. On this, their self-titled debut project all but one of them crammed into a London house that doubled as their live in studio and got to work making music.
I could have listened through this ten times and still not heard every diligently placed sound. The quality of this brand of electro-pop is as good as any that I have ever heard. They utilize so many different sounds and noises that it would be easy for this album to run off the rails but it somehow stays cohesive. One of the main reasons is Orono's vocals that will occasionally diverge with different qualities and effects but are always ultimately her, this goes a long way in tying every song together. Their expansive use of funky synths is another commonality, when they are present they unify the whole piece. Another aspect I really like about their sound is the way to play with off beats. It is common throughout the album but maybe most notable on Something For Your M.I.N.D. and Nai's March where all sound drops out giving these songs a brief breathlessness that fills them with personality and separate them from other bands of the genre.
Production wise, with this many hands in the pot there is so much room for messy final products but the band's drummer and mix engineer Tucan kept everything tight in spite of its complexity. Spliced through the album are real world sounds like nature, car horns and arcade machine that somehow never really seem out place and are at times used musically as well. His use of panning in all directions will throw their unique sounds all around your head when you're listening. It's a cool effect that is easy to overuse but Tucan kept it tastefully spread about.
This the most stimulating album I have heard all year, maybe even ever. Debuts this good are rare and remind me of those of MGMT or The Strokes in how they seem to be doing stuff we've heard before but in a different way. I anticipate I will keep coming back to this album a lot, it is really fun and has a lot of catchy tunes that are already stuck in my head.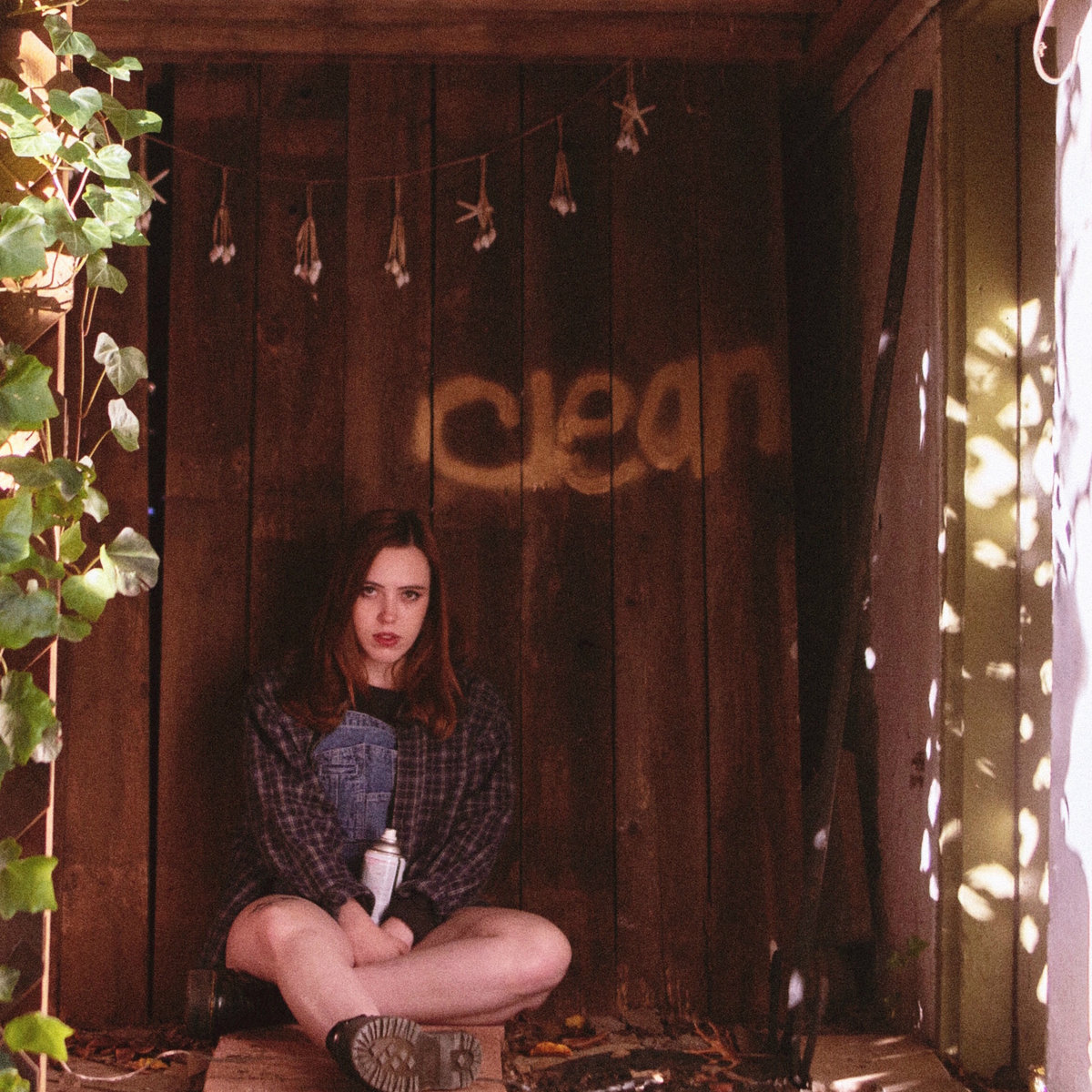 Soccer Mommy - Clean
Continuing on the theme of talented young female vocalists, we have Sophie Allison otherwise known as Soccer Mommy. That is about where the similarities seem to stop. Allison is a young woman who grew up listening to pop punk in Nashville. When she moved to New York to attend school she decided to adopt a don't give a shit mentality after years of being ignored and shut out by the male dominated punk scene. She started releasing music she recorded in her bedroom. The rough recordings have been released through EPs on bandcamp and some even reworked since signing to Fat Possum Records but this is her first studio album.
I loved this album almost from the moment her voice came in over the acoustic strumming on Still Clean. Her voice is obviously vulnerable and soft in a majority of her music by its nature but on Clean there are plenty of songs that allow her to show some more diversity. Songs like Cool, Your Dog and Last Girl could be thrown back into the 90s and would fit in with some of the better tracks of the era. It is an album that wonderfully details the emotions experienced in tumultuous relationships. Her music has an authentic honesty that is vital in the indie rock genre. Though their music is nowhere near similar her writing reminds me a lot of Khalid in they way they are able to capture these emotions so well especially at such young ages and early beginnings to their careers. Clean opposed to her early work showcases her growth as a songwriter and is so much easier to appreciate with this more finished sound.
My only complaint comes down to strictly personal tastes. There are a few times where the album seems either unpolished or containing purposeful calls backs to the lo-fi sound that defined her recordings prior to this. For example at around 3:10 on Still Clean, you'll hear what seems like a rough take track break in. As the first track I don't think it's a particularly egregious offense but it is distracting and in my opinion takes away from the overall better sound that proper equipment provides. However this might just be my dumb ear that was broken by going to a recording school that set up unrealistic standards for clarity, others may enjoy these quirks.
Allison has said in interviews leading up to the album she wanted it to sound like being outdoors in the south and alone with your thoughts. Mission accomplished. I can't think of a better way to describe it. It is really good.
Prism Tats - Mamba
Prism Tats doesn't have a wikipedia page. Kind of a weird fun fact considering Garett Van Der Spek, the South African born singer, already has one full length album and a 6 song E.P. under this moniker and is signed to a sub label of Epitaph. I think this qualifies him as one of the internet's best kept secrets.
If you've been paying attention to this piece weekly you might have realized I have an affinity for synths, meaning post-punk is one of my favorite genres. Prism Tats' music is driven by synths and rhythmic guitar riffs which is why it is technically considered to be post-punk but I feel like his tunes are too catchy in a traditional way to be classified in this genre. However his layered vocals and distorted guitars are in line with what the genre typically sounds like, it's just more upbeat about it than most.
In his own words the album is about "what's going on in the world today and being afraid of the future we're headed toward." Lyrics like "I sense impending doom coming from the T.V. in my tomb" are juxtaposed with the aforementioned catchy riffs that don't dwell on the songs' somber content. Rather they provide us with a release for the mounting anxiety that can come from being informed about the world around us, it's a great record for the time.
Jonathan Wilson - Rare Birds
This album is more of an experience than just listening to music. Jonathan Wilson has been around the music industry for a long time. He owns his own studio in LA and has played with the likes of Father John Misty and Roger Waters. That being said going into this I hadn't heard him prior to Loving You coming across my radar a couple of weeks back. I hadn't really heard anything quite like it. It's kind of a hippy song that starts off with chants and flutes before kicking into an old American rock groove.
That song is a pretty good characterization of Rare Birds as a whole. It is an amalgam of classic rock jams and hippy jam band tunes. The songs' content of loss and heartbreak are masked in a cover of beautiful music that it is so well put together sonically that you may find yourself lost in thought many times while listening. It is very hard to describe but it reminds me a lot of listening to old rock music with my parents in the same way Awaken, My Love! did with soul music. There are so many different stylings of rock that you will hear shades of bands like America and The Doobie Brothers, there's even a country song that's not awful. A feat believed impossible after 2000.
Clocking in at an hour and eighteen minutes this album is long, which is part of why I describe it as an experience. If I'm not mistaken the longest I've done since starting this, meaningful content anyway. Looking at you Timberlake. I don't blame you if you can't find this time to get through this this weekend but keep it in mind if you have any extended listening session, it will not disappoint.