Back again for the 2018 season is no one's favorite weekly baseball piece Screamin Line out. Every week on Screaming Line Out I will be sharing my favorite thing from around the baseball world
There are so many things going on in baseball right now that fake games are coming to a close and rosters are finalizing that there is almost too much to keep up with. But this week was easy...
Today is opening day for the 2018 Major League Baseball season. Every year this is one of my favorite days on the calendar. I personally make a bigger deal out of this than my own birthday and wholeheartedly believe it should be a national holiday, as it is in my family. A few years back after multiple seasons of living in a city with a Major League team I decided I was going to make this a tradition. What started with only me and my cousin has grown to anyone who wants to come including my then unborn son who may not necessarily want to but he's too young to know better. For years to come I anticipate giving him reason to at least fein interest in baseball because it will be associated with skipping school and watching ALL THE BASEBALL.
Going to a game on opening day is like a beast of a different color compared to most regular season games. The grandiose fanfare around the ballpark is seen and felt all over; from the red, white and blue banners hung literally everywhere to the sold out crowds in even the smallest markets. The vibe in and around the ballpark is electric, almost tangible. The feeling of untainted, eternal hope as it flows in and out you is truly magical, at least until the first opposing team lead. It's like Disneyland, but better[1]. Almost everyone has their best pitchers on the mound, so the match ups are insane: Carlos Martinez vs Noah Syndergaard, Sentient Pitching Machine vs King Felix, Justin Verlander vs Cole Hamels in the greatest land in the country and Chris Sale vs Chris Archer in an abandoned Costco.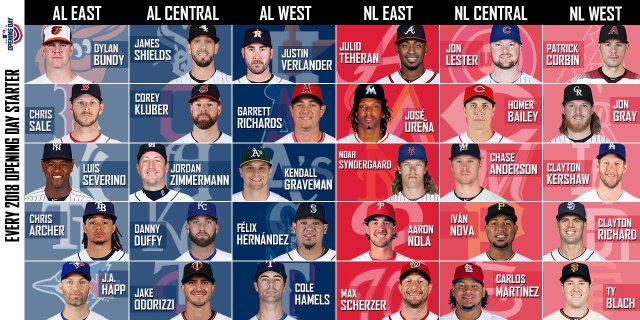 If you haven't partaken in Opening Day before the good news is 2018 will be the best one of recent memory so there's never been a better time. For multiple seasons, MLB has done everything it could to reduce the importance of the greatest day of the year by getting away from the traditional routine with "opening night" games and multiple teams taking the day off all together. This year, even though the date is inexplicably a March Thursday, will feature every team not postponed by act of god(inclimate weather). The day will start off with some East Coast games as early as 12:40 PM EST with the potential to go on for at least 10 hours not including extra innings, please let there be extra innings. I don't think my body is ready but here we go anyway.
My 2018 Predictions
Tweet of the Week
You couldn't script it any better. People wouldn't believe you. #LikeFatherLikeSon pic.twitter.com/yURPB0UqsY

— Toronto Blue Jays (@BlueJays) March 28, 2018
---
Just kidding nothing is better than Disneyland, obviously ↩︎