Every week the contributors to The Irrelevant will share the one thing we've been into this week. It can be a movie, a book, a song, an album, some youtube video, a random meme, or twitter user, anything that's been taking up more space in our mind than it should. We want to share this with you because we like sharing things we're into. Also these are perfect things that you can consume over the weekend, so here they are:
Rafael Devers's game tying home run in the 9th inning against the Yankees
This video has 2.9K views, being that at least 1.63k of those are mine, that is far too little. You should watch it again. I'll wait.
Let me list why this is amazing: Left on Left. Rookie. Less than 15 games into his career. 20 years old. Youngest player in the league. Biggest rivalry in the country. In the Home Stadium of his team's biggest rival. Down one run in the bottom of the 9th. Pinch hit. One of the best closers in the league for last 6 years. Hit to the opposite field. 103 MPH. One hundred and three miles per hour. The fastest pitch ever hit for a home run ever recorded.
A bit more narrative for context. The Red Sox went on to win this game and add a game to their division lead. Rafael Devers has been a godsend to the Red Sox in the thick of an unexpected division race they were supposed to run away with. They have received little to no help at third base, a lot of people have opined that it was unfair to rest all the teams hopes on such a young prospect who may not even be ready for the majors. So far 17 games, as of the writing of this, he has silenced those critics and has proven he belongs. 17 games is the smallest of sample sizes so this may just be a cool little blip in an ultimately forgettable career but whether he falls into obscurity, reaches the hall of fame or somewhere in between Rafael Devers likely hit the biggest and most fun home run of 2017. So far...
Vevo x Lorde
Lorde's Melodrama has been by far my favorite album of the year. For many reasons. So, I was thrilled when I saw Vevo announce a collection of live set performances by Lorde. Not only because of the album, but also because Vevo's live performances have really upped the "live" music video experience over the last couple of years. They're no longer boring to watch.
In this particular case, Vevo produces a collection of six live performance videos where each song feels like a completely unique experience, ranging from acapella and a boombox to a medium-sized orchestra. The production crew uses the set (Electric Lady Studios) differently in each song and adapts the lighting design and cinematography each time to properly fit the mood of the songs' new stripped renditions. You aren't watching the same performance six different times, each video has its own moment.
A R I Z O N A
No not the state, but the band which has nothing to do with the state. If I haven't lost you after that initial sentence, I suggest you go to Spotify and stream the band's debut album GALLERY. I stumbled onto them thanks to Discover Weekly playlist a while back and have not been able to stop listening since.
It's perfect music for a late-night drive, kind of makes me want to go cruising along the Pacific Coast Highway. The band is a sort of hybrid between alternative and pop, so you'll hear a ton of 80's style synths while you move to the music. The album has a good mix of high tempo "fun" songs and my personal favorite slower sad "pop" songs. It's a great listen from beginning to end, with standout tracks; "Cross My Mind". "Oceans Away" and "I Was Wrong" sprinkled in between. However, the bands best song "Let Me Touch Your Fire" (my sources tell me that it will be Jon Snow's love ballad to Daenerys) was for some reason not included in GALLERY, so make sure you listen to that as well!
Hunt a Killer
My fascination with true crime started when I was still a middle schooler. I was always fascinated by the psyche and felt compelled to learn the motivation behind their violent acts. Even more so, I was completely drawn in by the detectives that were able to solve the crimes. For a little while, I thought I could study to become a detective, but realized the more I looked into it, that I would probably wouldn't be able to stomach it in real life. My interest for it, however, is stronger than ever, so when my boyfriend told me of Hunt A Killer, there was absolutely no way we could pass up the opportunity to try it out.
Hunt A Killer is a subscription box that is described as "Blue Apron for people who like murder". I'm sold! Each month we receive a box with different clues that we must decipher. The stories can range from 2 to 4 episodes (boxes) up until a full year of trying to catch the killer. There are several different facebook communities you are encouraged to join to help with figuring out clues. Our first box came in yesterday, and already my brain is in full detective mode trying to figure out the clues. I really wasn't expecting the experience to be as immersive as it is, especially not right off the bat, but if you are a true crime nut like me, you will absolutely love this thing. I feel like Jake Gyllenhaal in Zodiac, or Brad Pitt in Seven.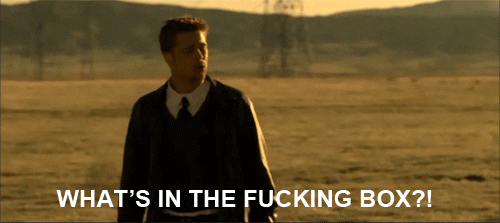 Its $20 a month, but definitely worth it. What would be cool is, we get together as a group, split the cost, and hunt for the killer together! It's so much fun, and very much looking forward to solving this thing.
The Defiant Ones
I've been on a bit of an HBO binge this week. I got a one week trial for it last Sunday night and I've been ferociously consuming as much of it as I can before my trial expires(HBO sponsorship is fully welcome btw). I'm a fan of documentaries and I'm a fan of hip hop but I believe that even if you're not both of those things you'll enjoy The Defiant Ones. This four part documentary series tells the stories of Dr. Dre and Jimmy Iovine from their beginnings in the music industry to their signing a 3.2 billion dollar deal with Apple for beats and beatsmusic.
The documentary is littered with great artists from the 70s all the way to the modern era and you get to hear first hand accounts of how these two men shaped these artists or were influenced by them. There's many behind the scene videos of both Dre and Iovine in the studio working with greats like Bruce Springsteen or Eminem. It's inspiring stuff. Just to see how relentless and dedicated to their craft both of these guys are and how despite the fact that they have a knack or an "ear" for greatness they still continue to work hard all these years is incredibly compelling. The lessons of how you have to stay true to yourself and just be guided by the things you're interested in and not what others are saying is a great lesson to have reinforced.
I'm not saying watching this documentary series is gonna make you a billionaire like the guys in it but it's a very interesting look into the minds and lives of the types of men that can achieve that level of "success". I put it quotes because for both of these guys it wasn't always about money, in fact I'd argue for Dre it still isn't. Watch it!