Every week (just about) the contributors to The Irrelevant will share the one thing we've been into this week. It can be a movie, a book, a song, an album, some youtube video, a random meme, or twitter user, anything that's been taking up more space in our mind than it should. We want to share this with you because we like sharing things we're into. Also these are perfect things that you can consume over the weekend, so here they are:
---
Crazy Ex-Girlfiend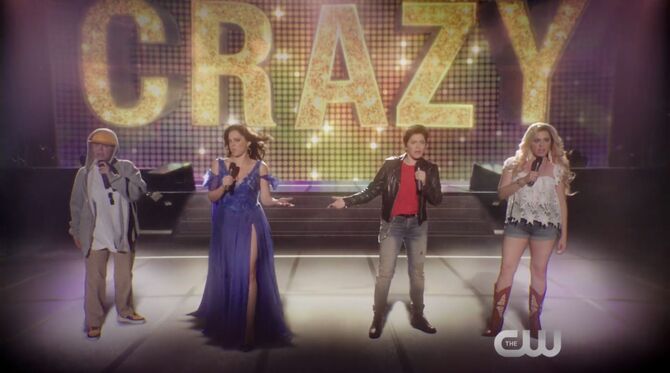 With the progress made on shining a light on mental illness in the last few years I am surprised that this show isn't being talked about enough. I have been playing catch up this week and it only seems to be getting better each episode. I didn't watch the show right off the bat, it was only after Rachel Bloom (Rebecca Bunch) won her Best Actress in a comedy Golden Globe that I had even heard of Crazy Ex-Girlfriend. Initially I had I assumed the show was just a teen type plot about a young woman making a fool of herself and pining after her ex. While Rebecca does go to "crazy" lengths for Josh Chan and is cringe inducing at times, you can't help but love her. I feel like this show was made for me and not just because of the musical numbers that are incredibly funny, topical and at times raunchy, but because I have felt the same as Rebecca at times especially when she makes questionable and terrible decisions. In the beginning of the series I found myself sympathizing with her and even defending her unhealthy actions in my mind because she was just a girl in love. Why couldn't anyone else see that? Rebecca does in fact struggle with her own set of mental issues which I found surprising that the series centers on, so no it is not your typical teen type show and I will not underestimate the CW again.
The first 2 seasons were all about Rebecca and Josh and you think 'Where else can we go from here?', and by the second season's cliffhanger which actually took place on a cliff we really wonder where Rebecca's story would go. The writers warned us that there would be a point in the season that would change the whole show and it was hard to imagine what could possibly top Rebecca's antics of stalking, bribery and even arson, but they weren't lying. The season took a dark turn, but it literally breathed new life into the series and has set a new course where we continue to follow Rebecca on her journey where it's not all about Josh and we still get those awesome musical numbers.
---
Forensic Files
I've previously shared about how over the past couple of years I've discovered how deeply I love the true crime genre. I honestly think a lowkey, constant devotion to Forensic Files automatically comes to anyone who shares this passion. Dateline and Discovery ID shows will always have their place, sure, but there's something about the narration in Peter Thomas' no-nonsense baritone that will always catch my attention. As time has passed, my husband has joined me in my obsession and these days, we have Forensic FIles on almost every night of the week. It's become the answer to every entertainment debacle we have.
Can't figure out what to binge on Netflix? Forensic Files.
Only have time for a 30 minute show before bed? Forensic Files.
All your "shows" only on once a week and you don't know what to do in the meantime? Forensic Files.
Can't agree on which comedy to start and decide not to put on The Office for the 100th time? Forensic Files.
So if you, like me, love to find out how criminals got found out by the wonders of science, you too can start bingeing this gem on Netflix (or HLN if you're a real TV person). Come, see the joy of 90's level entertainment production, bad hair, and even worse reenactments. You won't be sorry you did.
---
Will Ospreay
Between WWE and New Japan Pro Wrestling, January 2018 was one of the greatest months of professional wrestling I can remember. A combination of an amazing Royal Rumble and watching my first ever live Wrestle Kingdom has my obsession for the sport at levels only known in my pre-pubescent years. Thanks to the internet names like Okada, Naito and Kenny Omega are starting gain large fan bases despite not being on American TV every week. Of all these great performers no one has captured my attention like the "Aerial Assassin" Will Ospreay.
During the height of wrestling's popularity in the late 90s, WCW's cruiserweight division was the best the sport had to offer because of the variety of styles and tendencies for death defying, high flying moves. With talents like Ospreay, Neville, and Pete Dunne to name a few, it's clear through their wrestling the stars from across the pond must have been raised on that division. Of the men from the United Kingdom, Ospreay is starting to emerge as the measuring stick for both high flying and British born wrestlers. From his Spider-Man and Assassin's Creed inspired gear to his penchant for Eddie Vedder esque leaps(combined with flips and corkscrews) off of structures I don't know that there has been a wrestler more perfect for me. On his instagram Ospreay is doing "30 days of love for pro wrestling" and this has given me the push to go back and watch some of his matches. Watching him is a reminder of the past greatness of the division and a vision of its potential. No matter the opponent his matches are must watches for any fan of the sport. He has accomplished so much at the young age of 24, with only about 6 years of wrestling professionally under his belt, and I can not wait to see what the future has in store for him.
---
Giannis Dunking over Tim Hardaway Jr
Look. Just look. I don't need to say anything else. Just look.
Now Look at this.
The man jumped OVER a dude that's 6'6 AND he dunked it. They don't call him the Greak Freak for nothing.