So it's all come down to this. As I predicted in April the Los Angeles Dodgers and Houston Astros are set to determine who will remain standing as the champion of the 2017 baseball season. The prediction was pretty easy honestly, pick the two best teams and put them in the world series, done and done, I'm smart. How the teams got here and the storylines/players that have emerged are kind of different than most baseball fans envisioned but nevertheless we are finally at the biggest stage in baseball and as we established in my first preview you should be watching unless you want everyone to think you're a traitor to our country.
The Houston Astros:
For most of the season the Houston Astros were the best team in the American League. It took an all time great rotation and a record winning streak from the Indians paired some tough luck to overtake them for the best record in the AL and even that was only a game difference. I still believe this is the best team from the AL and though they struggled to get anything together in the ALCS I look forward to seeing them match up against the Dodgers. Their offense was the most valuable in the league and they boasted an MLB leading 5.5 runs per game. This team is truly incredible and they have been a long time coming.
Reason to root for:
The Astros have been around since 1962, as the Colt .45's. They have never won and are now participating in just their 2nd World Series. Their fans deserve some relief after only 7 titles, a league change and multiple years of tanking to improve their farm system. This team is representing a grieving and rebuilding community so it would be nice to see them give people in Houston a reason to cheer. It will be a tough road for Houston as they will have to beat the greatest pitcher on the planet and a pitching staff that seems to be peaking at the right time. The solace 'Stros fans can take is manager A.J. Hinch will be able to stack the line-up with right handers that should be more than capable of doing damage on the few mistakes they will see. Their biggest hurdle still stands in front of them but this team has come a long way and I'm happy to see them here.
Player to watch:
A lot has been of said of the Houston Astros' team leader Jose Altuve this postseason and if you were suffering from Altuve overload I wouldn't blame you. Get over it. He is an amazing person and a better player. He is the only player that I have admitted deserves to win MVP over in Mike Trout 7 years. Think of a dude in your life, any dude. Odds are Altuve is shorter than him. He is listed at 5'6" which might make him as short as 5'4", athletes tend to have their measurements padded for appearances. Altuve put up the most value of anyone in MLB in 2017 and he did it in a frame smaller than 90% of Texas High School football kids. David Eckstein wears Jose Altuve pajamas. I'd like to have some other insight than watch the best player on the field but with someone playing like this there isn't really a choice
Rapid fire reasons to like:
CURVEBALLS! Lance McCullers threw 24 curves to end game 7
Yuliesky Guerriel's hair

Personal Favorite story:
Evan Gattis was a highly touted prospect who could've jumped straight to the major leagues but instead elected to go to college. He ended up dropping out because anxiety got the better of him like it does so many. He faced some demons and his mother helped him get clean and he entered Junior college where he would get a second shot at baseball. There he suffered an injury, decided he hated baseball and left. He took some menial gigs like ski lift operator and then became of aware of his depression and checked himself into a psychiatric ward. Later he would find multiple spiritual advisors who led him to a better place mentally. Armed with this new sense of self he walked onto a college team because the coach remembered him from his high school days, six years prior to that. He would go on get drafted by the Braves and in 2013 due to an injury to Brian McCann he got a called up to the majors. He initially excelled earning back to back rookie of the month awards. He has obviously cooled down to this point has had an up and down career complete with minor league stints and injuries. Those simple things pale in comparison to what Gattis has survived and here he is 7 years after being drafted playing DH for the American League champion Houston Astros. Also he looks like he just chopped down a tree and shaped it into the bat he is using everytime he steps up to the plate.
Dodgers:
This entire season has been the Dodgers march to the championship that has eluded the franchise for almost my entire life. Their new ownership group whose takeover was chronicled by Molly Knight in 'The Best Team Money Can Buy' has done just that and thrown money at all their problems. They also happened to have the foresight to assemble some of the smartest people in baseball so sustain their investment. The last few postseasons have been awful for Dodgers fans as they've seen their monster teams fall to inferior opponents for the last four years. This team has had a good amount of setbacks, particularly injuries to some star players but their huge payroll and deep roster of talented bench/minor league player mostly mitigated them. A lot has been made of the historically bad streak of games they suffered late in the season in which they went 1-15. However in spite of that run of futility and aforementioned injuries, they still won 104 games and lead this season's toughest Division by 11 games. Eleven. This team doesn't want to be remembered like the Atlanta Braves of the 90s who only have one world championship for all their sustained success. This team wants to be a dynasty and so far they have only lacked the rings to prove their success, this may only be the beginning. They are really, really good.
Reason to root for:
You like winning. This Dodgers team is every bit as good as they've shown this year. They have the best pitcher in the Galaxy. Their best player, Corey Seager is healthy after missing ghe NLCS. They seem to finally find pitchers who can get the ball the Kenley Jansen. Their minor league diamonds in the rough have yet to turn back into pumpkins. Yasiel Puig is shinning brighter than the Dodger Stadium lights all at the right time. This team is going to win.
Player to watch:
Clayton Kershaw is the best pitcher I have ever had the privilege of watching. He is the best pitcher in the universe. He is finally past the road to the World Series and for the first time in an already legendary career where he belongs, on baseball's biggest stage. Unlike past seasons the Dodgers are coming in with more of a pitching plan than Kershaw-Jansen and then shrug, so he should have every opportunity to succeed. When he is on I don't know that there is a line up outside of an All-Star team that can beat him and I expect we are in for some incredible performances where he will make the line up boasted about earlier in the Astros section look really silly. Also he builds houses in Africa in the off-season and look at his cute babies.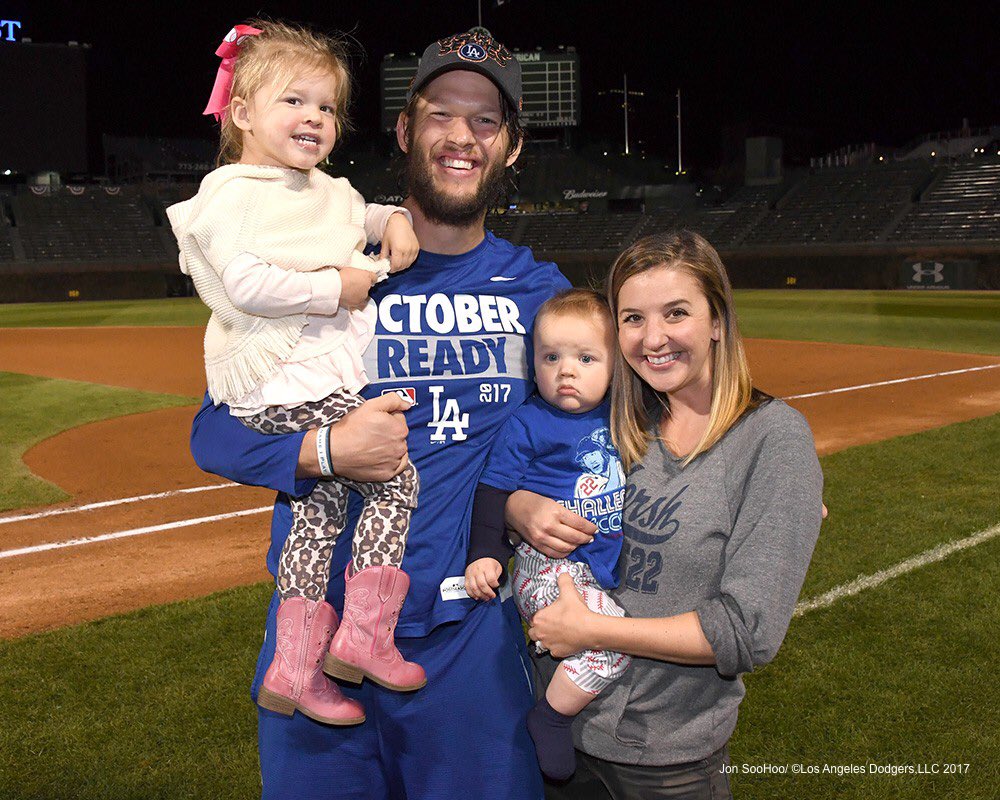 Rapid fire reasons to like:
Jim Henson character manning 3B

Personal favorite story:
Rich Hill has been chasing this his entire life. His baseball talent was identified early on, he would be drafted twice after opting for college the first time. After spending only two seasons in the minors he made his major league debut in 2005. Throughout his career he has battled control issues and injuries while hopping from team to team. All the while tinkering with his mechanics having to accept minor league contract after minor league contract. In all his stops he was effective but mostly in small samples and spent a lot of time in Triple-A. He would continually bet on himself negotiating opt out clauses into all of his deals. If he pitched well enough he figured other teams would want him. But teams are fickle and unless you're a young fireballer who throw 95+ they don't want you. Eventually chasing his dream meant he had to play in the independent league when no deal came. It took all of two starts and 11 innings to convince the Red Sox to give him another shot. After they didn't re-sign him, despite pitching like of on the game's elite he signed a one year deal in Oakland who would predictably trade him. They traded him to his new home in LA where he re-signed and now 3 seasons removed from pitching in independent baseball he will start game 2 of the World Series at the ripe age 37.
The Match Up:
One thing that differentiates the World Series from other sports' championship round is very rarely does it determine who the best team is. More often than not the organization holding the trophy at the end is just a good one that got hot at the right time. The World Series matchup this year though is a rare exception, the last time the two teams with the best records made it to the World Series was 2013 and one of those teams finished worst in their division the next year so neither were particularly dominant. One thing that is sure to happen and is worth watching every game for is the inevitable montage narrated by Vin Scully. The silky golden voice of the legendary broadcaster/storyteller is sure to grace our ears at some point and tears will be flowing from its majesty. It may not be him calling the series others have wanted but he wishes to take it in as a fan and he should get what he wants he's certainly earned it. This world series is also being touted as the culmination or crowning of the achievement in analytics in baseball. Well the Cubs, Indians and teams for at least the last five years may have something to say about that, they weren't really rubbing rocks together. One thing I can say is a lot of really smart baseball people are really happy for this match up of teams crafted by people they have idolized for some time and that makes me smile. These are people who get shit on all over twitter and social media for thinking about the game in deeper ways by ignorant fans and seeing them happy about this match up makes me all the more excited for it.
I am so excited for this series I can't even put it into something comprehensive as you might be able to tell if you've made it this far, the only thing to do now it root for seven games so we can get as much baseball as possible before the long dark "offseason"
.
P.S. one more Astro's fail for emphasis on where they were